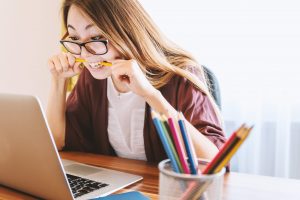 "This post may contain affiliate links, which means I may receive a commission, at no extra cost to you, if you make a purchase through a link.As an Amazon Associate I earn a small comission from qualifying purchases. Please see my full disclosure for further information."
How am I going to juggle all of this?
Kids, housework, spouse, church and running a blog?
I must be out of my mind!
Is it even possible for me to balance all of this?!
Trust me, I understand how you feel. It all can be so overwhelming sometimes.
But I want to tell you that it is possible to balance it all.
However, for you to be successful you have to learn how to be more productive.
Who better to give us tips on productivity, then the Proverbs 31 Wife?
But before we get started let's clear up any misunderstandings you might have about productivity.
What is Productivity?
In the corporate world, productivity is measured by how much you accomplish within a certain amount of time.
Outside of the workforce, productivity is measured in pretty much the same way.
How much did you get done today? What did you accomplish with your life?
One of the ways people try to boost their productivity is by improving their time management skills.
But time management is just one part of being productive.
As my husband pointed out, you can have great time management skills and still be unproductive.
Being productive is not so much about how you manage your time or how many tasks you scratch off your to-do list.
Being productive is about how efficiently and effectively you can complete a specific assignment.
With that being said, there are certain mindsets and processes that we need to have in place to improve our productivity.
Now, let's see what we can learn from the Proverbs 31 wife.
7 Productivity Tips Christian Bloggers can Learn From the Proverbs 31 Wife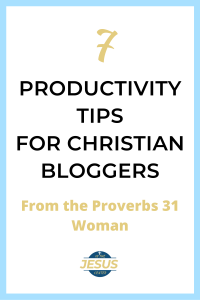 "She selects wool and flax and works with willing hands (vs. 13). "
1. Be Prepared.
The wool and flax are already within her reach. She is prepared to start her work for the day.
How can you be better prepared to work on your blog?
Here are a few ideas to get you started:
Have a dedicated workspace or office for your blog.
Keep everything that you need readily available so that you don't have to search for anything.
Create a blog basket that holds your laptop, chargers, pens & pencils, sticky notes, etc and leave it in your work area.
Have a to-do list already created, so you know what you are working on.
2. Have a Willing Attitude.
Another word for willing is enthusiastic.
Not only was this woman prepared, but she was excited about what she was doing.
In other words, get your mind right and get excited about working on your blog and serving the audience God has called you to reach.
Even if you have no idea what you're going to write about, go in with a willing attitude, open-heart, and ears to hear what that Lord would have you to say.
"She rises while it is still night and provides food for her household and portions for her female servants (vs 15)."
3. Start Your Day Earlier or Stay Up Later (vs 18).
If you're having trouble finding time to dedicate to your blog, then you might need to sacrifice some hours of sleep at some point during the week.
I usually work on my blog during nap time and when the kids have finally gone to bed.
Minor tasks like responding to comments, pinning to Pinterest, responding to e-mail I can do while they're awake.
But any real work has to be done once all of the little people have gone to bed.
4. Take Care of Your Household
As a woman living in our modern society where gender roles are constantly being challenged and changed, this may seem a bit old -fashioned.
But I'm an old fashioned kind of girl.
Biblically, it is the woman's responsibility to look after the affairs of her home.
We can not neglect the needs of the members of our household for the sake of our blog.
How does this increase productivity taking care of your home increase productivity?
Having a secure and stable home life will:
improve your attitude
improve your mental state (less stress)
improve your focus
gives you confidence
All of these things foster a positive mindset, which allows you to be more productive. 
5. Don't Be Afraid to Ask for Help
We tend to think of the Proverbs 31 woman as a one-woman show, but ladies she has a team!
Don't forget about those female servants mentioned in the last part of the scripture.
The word "portions" in the scripture can also be translated as the word tasks.
Not only did she care for her servants, but she also assigned them their work for the day.
It's ok to ask for help with your home and with your blog.
This could include:
Assigning chores to your kids.
Asking your spouse to help with various tasks.
Hiring a VA to handle various administrative work or social media.
Learning how to automate social media posts, e-mails, and blog posts.
"She evaluates a field and buys it; she plants a vineyard with her earnings(vs 16). "
6. Take stock of what is and isn't working
A popular term bloggers use is ROI, which means "return on investment."
You want to spend your time on tasks that are going to give you the most return for the amount of time you've invested.
In other words, don't waste time on tasks or activities that are not going to help to grow your blog or reach your goals.
If you want to try a new technique or process stick with it for at least three months.
After that evaluate if its working or not.
Keep what's going to give you the best ROI and toss what's not.
"She watches over the activities of her household and is never idle (vs 27)."
7.Refuse to be Idle by Eliminating Distractions
Procrastination and distractions are two of the biggest ways to kill your productivity as a blogger.
The Proverbs 31 wife knows this and she refuses to let distractions and procrastination cause her to be idle.
She's not scrolling through Facebook and Instagram when she knows she has a blog post to write and graphics to make.
Instead, she is:
Focusing on one task at a time.
Creating content with her audience in mind.
Making sure her social media notifications are turned off on her phone.
Not constantly checking her blogging stats.
Not procrastinating because she doesn't want to do a specific task. (hint: do this one first and get it out of the way)
We probably won't ever be able to get rid of every single distraction.
But we can try to keep them to a minimum.
Many Christian women aspire to be like the Proverbs 31 wife.
There is a lot that we can learn from her example.
I hope that you found a few good tips that you can implement today to help you be more productive.
But before I go I just wanted to add one more tip.
8. Start with Christ.
Say a prayer before you start working on any aspect of your blog. Ask the holy spirit for wisdom and guidance as you seek to show Christ to the rest of the world.
If you have any more productivity tips to add, please share them with me in the comments section. They don't have to be related to scripture.
As always remember to keep Jesus in the center of everything you do.
Your Sister In Christ,
Eboni
All of these tips were taken from Proverbs 31: 13-27, CSB version.