Prayer is one of the most important spiritual disciplines, but it is also one of the most neglected.
As a Christian, prayer is one of the most important weapons that God has given us.
During prayer, we can enter God's presence to find peace, joy, comfort, and direction in our lives.
But, have you ever prayed and felt like God wasn't listening or that your prayers weren't being answered?
I know that there are times that I have felt this way.
Did you know that there are certain habits that will make your prayer life ineffective?
Today I'm going to share with you 10 practices that will make your prayers more effective.
10 Practices That Will Make Your Prayers More Effective Prayer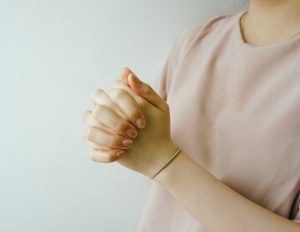 "This post may contain affiliate links, which means I may receive a commission, at no extra cost to you, if you make a purchase through a link.As an Amazon Associate I earn a small comission from qualifying purchases. Please see my full disclosure for further information."
While many people have differing opinions on how you should pray the Bible does make a clear distinction between effective prayers and ineffective prayers.
… The prayers of a righteous person is powerful and effective.

James 5:12
No one wants or expects their prayers not to be heard, but the fact of the matter is that there are certain things that can cause our prayers to be ineffective.
5 Practices That Can Cause Your Prayers to Be Ineffective:
1. Selfishness
When you ask, you do not receive, because you ask with wrong motives, that you may spend what you get on your pleasures.

James 4:3
Are we being selfish with our prayers? Do we only pray about ourselves and what we want and need?
If you go back and read the Lord's prayer you will discover that the whole prayer is written in plural possessive form.
Our Father, give us, forgive us, lead us.
Prayer is just not meant for us to pray about our own needs.
It is designed for us to pray for others as well.
2. Unconfessed Sin
But your iniquities have separated between you and your God, and your sins have hid [his] face from you, that he will not hear.

Isaiah 59:2
If we read the first part of James 5: 16, it instructs us to confess our sins one to another…unconfessed sin will cause your prayers to become ineffective.
That's why we should always ask God for forgiveness daily.
3. Unbelief
But he must ask in faith without any doubting, for the one who doubts is like the surf of the sea, driven and tossed by the wind. For that man ought not to expect that he will receive anything from the Lord.

James 1:6-7
This doesn't mean that if we don't believe that God won't answer our prayers, but if we have unbelief in our hearts we shouldn't expect God to answer us.
Unbelief often leads to our next topic.
4. Disobedience
We know that God does not hear sinners; but if anyone is God-fearing and does His will, He hears him.

John 9:31
When we have unbelief in our hearts when we receive instructions from God we're probably not going to follow them.
Instead, we will grow impatient and try to do things in our own strength and in our own power.
5. Unforgiveness
"14 For if you forgive other people when they sin against you, your heavenly Father will also forgive you. 15 But if you do not forgive others their sins, your Father will not forgive your sins."

Matthew 6:14-15
We aren't supposed to hold grudges and bitterness against people.
If you are having a hard time with this step, ask God to help you forgive the person and help you let the hurt go.
When Jesus sacrificed his life for us, on the cross, our sins were forgiven.
In the same way, we are to forgive other people when they offend or hurt us,
Jesus sacrificed his life for us while we were still sinners (Romans 5:8). We should be willing to forgive others.
I'm not saying forgiveness is easy, but if we pray and give it over to God, he'll help us get there.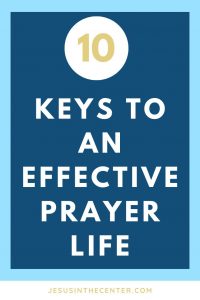 5 Practices That Cause Your Prayers to Be Effective:
1. Praying The Scriptures (God's Will)
… My word that comes from My mouth will not return to Me empty, but it will accomplish what I please and will prosper in what I send it to do.

Isaiah 55:11
And this is the confidence that we have in him, that, if we ask anything according to his will, he heareth us.

John 5:14
Praying the Will of God ensures that we are not praying the wrong thing or with the wrong motives because we aren't praying our own will, but God's will.
If you've never prayed the Bible before you can download my free Bible prayer cards to use as an example.
2. Confessing Our Sins
Remember sin separates us from God.
That's why I feel that repentance should be one of the first things that we do before we pray for ourselves and other people.
We don't want anything to block or hinder our prayers.
We must let go of our pride and truly repent of our sins.
3. Faith
Therefore I tell you, whatever you ask for in prayer, believe that you have received it, and it will be yours.

Mark 11:24
The life of a Christian is marked by faith.
It took faith for you to accept, Jesus as your Lord and Savior.
It takes faith to keep walking down the narrow road when everyone else is walking down the broad road.
It takes faith for you to read the word of God and hold fast to its principles when the rest of the world says what you believe is wrong.
Prayer is no different.
It takes faith to humble yourself and pray to a God you can't see.
And it takes even more faith to wait on the manifestation of that prayer.
4. Obedience to God
Just like unbelief leads us to disobedience, faith leads us to obedience.
When we have faith in God and in his character, we will obey him because we believe in his promises to us.
Even if he tells us to do something crazy like pack up all of our belongings and travel to a distant country.
Or to plant a church in the middle of nowhere.
Or to give your last $5 to the homeless man on the street.
It is in our obedience to his word and to his voice that our prayers are answered.
5. Be Fervent
What does it mean to pray fervently?
According to Merriam-Webster, the word fervent means exhibiting or marked by great intensity of feeling.
When we pray, we should be genuine and heartfelt.
We don't have to pretend with God, he knows what's in our hearts.
That's why Christ encouraged us to pray in private because we can be honest and heartfelt.
We're not trying to put on a show for the people around us.
That's not to say that we can't pray fervently and honestly in groups of people as long as our motives are right.
Final Thoughts
Let's do a quick recap of everything that we've covered.
In order for our prayers to be effective, we must
Pray the Scriptures
Confess Our Sins
Have Faith
And Be Obedient to God
Pray fervently
Remember my fellow brothers and sisters in Christ. Prayer is our direct line to God. It is an integral part of our relationship with God.
You can read my previous post about the importance of prayer.
The enemy would love nothing more than to keep you from praying and to make your prayers ineffective.
Now it's your turn.
How do you pray? Do you follow the model prayer? Do you keep a prayer journal? I'd love to hear your thoughts on this topic.
As always, keep Jesus in the center of everything you do.
Your Sister in Christ,
Eboni
If you liked this post don't forget to like and share it with your friends.