The past few weeks we've been studying the 11 spiritual disciplines.
Last week we talked about how to read the Bible.
Today we will cover the second half of that equation, how to study the Bible for beginners.
Every time you open your Bible you're creating an opportunity to grow in your walk with Christ and your relationship with God.
However, for new and seasoned Christians learning how to read and study the Bible can be intimidating.
But believe me, you don't have to be a Bible scholar to study the Bible on your own.
All you need is a willing heart, an open mind, and the proper tools.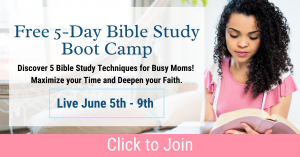 "This post may contain affiliate links, which means I may receive a commission, at no extra cost to you, if you make a purchase through a link.As an Amazon Associate I earn a small comission from qualifying purchases. Please see my full disclosure for further information."
3 Reasons You Need to Study the Bible?
Why should you study the Bible?
1. It Strengthens Your Faith
Most people don't really read anything anymore. They tend to quickly skim over the words on the page to gather as much information as quickly as they can.
However, studying is more deliberate and purposeful. Studying forces you to slow down and focus on what you're reading.
This allows you to understand the scriptures better.
Having a firm understanding of what is being said and taught in the Bible helps to strengthen your faith and trust in Christ.
2. Provides Instructions on How to Live
If you read my previous post, Reading the Bible for Beginners, then you've heard this one already. But it bears repeating.
Studying the Bible will give you a better understanding of how you should live as a Christian.
Jesus said to the Jews that believed in him, "If you hold to my teaching, you are really my disciples. Then You will know the truth, and the truth will set you free." (John 8:31-32)
As a disciple of Christ, you are to live according to his teachings. This proves to the world that you are one of his disciples.
As you study the word of God, you will get a deeper understanding of who Jesus is and how you should live as his disciple.
3. Studying the Bible Will Change Your Life
This is one of the most important reasons you need to study the word of God.
You can read the Bible every day and never see a change in your life.
Hebrews 4:12 perfectly sums up the power of the word of God.
"For the word of God is alive and active. Sharper than any double-edged sword, it penetrates even to dividing soul and spirit, joints and marrow; it judges the thoughts and attitudes of the heart."
As you study and apply the word of God to your life, it will begin to transform you from the inside out.
Bible Study Expectations
As I mentioned before, you don't have to be a Bible scholar or pastor to study the Bible.
What is Bible Study?
It is the regular practice of setting aside time during the day to find meaning in the scriptures using various bible study methods and techniques.
What to Expect from Bible Study
Many new believers start studying the Bible with this belief that they will have an awe-inspiring and deep connection with God every time they open their Bible.
Those moments are awesome when they occur. But, every Bible study session will not end in some life-altering, awe-inspiring session with God.
But even those mundane sessions are a chance for you to grow in your faith and your walk as a Christian.
What to Expect from Yourself
One of the biggest mistakes you can make as a Christian is comparing yourself to other Christians.
God created us differently. Just because Sister Sally and Brother Jim spend hours every day in Bible study doesn't mean you have too.
Just because your Bible doesn't have tons of underlined scriptures or notes in the margins doesn't mean you're a bad Christian.
My advice is to do what works best for you. We all learn differently. Find a few Bible study methods you enjoy and stick with those.
2 Ways to Study the Bible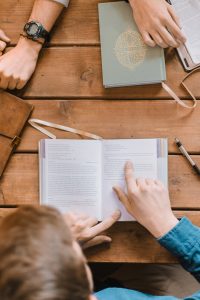 Studying the Bible can be broken down into two major categories: Group bible study and individual bible study.
Group Bible Study
Your local church should offer group Bible study sessions. If studying the Bible on your own seems intimidating, I'd recommend attending your church's mid-week services.
Unlike Sunday services, these services are less formal and allow you to ask questions and fellowship with other believers.
In light of the current pandemic, these types of in-person services may not be offered at your local church.
However, many churches are offering online Bible studies through Facebook and Zoom.
Individual Bible Study
While group bible studies are great because you can gain insight from other people. God desires to speak to each of us on a personal level.
That is why it's important to still study on your own.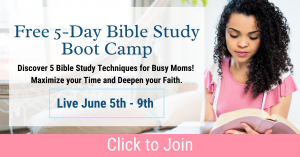 How to Study the Bible By Yourself for Beginners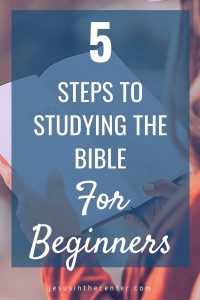 How to Prepare for Bible Study
You can read your Bible at any time during the day. Studying the Bible requires more preparation.
1.Set Aside Time to Study
Dedicate a specific time of day to read and study your Bible daily.
It's better to have a short 15 minute study time each day than to have a 2-hour study once a week.
How much time you dedicate should be based on your schedule.
For new Christians, I recommend trying to set aside 10 – 15 minutes a day.
2. Chose A Location
If possible, find a comfy space in your home or outside where you can have a little peace and quiet.
In that location keep the following materials:
Bible (Having a bible that is easy for you to read and understand is the cornerstone of any good Bible study.)
Pens/Highlighter
Notebook or Journal
Bible dictionary or Commentary
3. Start with Prayer
Before you study start with a simple word of prayer.
Easy Step-by-Step Guide to Studying the Bible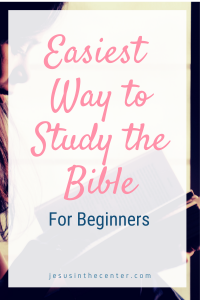 There are many ways to study the Bible, but this is the simplest method.
1. Pray
Start with a word of prayer. Here is a simple one you can use:
Father, thank you for all that you have done for me and for your word. Forgive me for anything that I have done, said, or thought that didn't bring glory to your name. As I read your word today, give me eyes to see, ears to hear what you have to say, a heart to receive your word, and a mind to understand what is being said. In Jesus' name, amen.
2. Read the Passage
Read through the passage once to get a general understanding of what the passage is about.
For this example, we'll explore Psalm 23.
1. The Lord is my shepherd, I lack nothing.2 He makes me lie down in green pastures, he leads me beside quiet waters,3 he refreshes my soul. He guides me along the right paths for his name's sake.4 Even though I walk through the darkest valley, I will fear no evil, for you are with me your rod and your staff, they comfort me.
3. Interact
Read through the passage again, but this time with your pen or highlighter in hand.
Highlight any words or verses that stand out to you.
1. The Lord is my shepherd, I lack nothing.
2 He makes me lie down in green pastures, he leads me beside quiet waters,
3 he refreshes my soul. He guides me along the right paths for his name's sake.
4 Even though I walk through the darkest valley, I will fear no evil, for you are with me your rod and your staff, they comfort me.
4. Question
Read through the passage one more time. Write down questions or thoughts you have in your notebook.
If couldn't think of your own questions, try answering the following questions in your notebook:
Who is the speaker?
Who is the audience?
What topic is being discussed?
How did the audience react?
What sin is being addressed?
Is there a cultural significance to this passage?
You don't have to answer every question, but they are a great place to start.
Ex: Why is the Lord compared to a shepherd? What is a shepherd? What is a shepherd's job? What are a rod and staff used for?
4. Research Your Questions
If you wrote your own questions, now would be a great time to research the answers to your questions using your bible dictionary, commentary, or the internet.
Remember the Bible was originally written in Greek (New Testament) and Hebrew (Old Testament). Sometimes words that we commonly use have a different meaning or function in the original language.
This is where having a bible dictionary or concordance is helpful.
You can also use these websites biblestudytools.com and blueletterbible.org to look up words and find commentaries.
Ex Research Answers:
1. What is a shepherd? A person who tends or rears sheep can also be someone who guides and directs you in a particular direction.
2. What is a shepherd's job? Keep the flock together, protect them from predators, and guide them from one pasture to the next.
3. What are the rod and staff used for? The rod was used for protection from predators, to rescue the sheep, and count the sheep. The staff was used to guide the sheep.
5. Reflect
Now that you've answered all of your questions reflect on what you've read.
Did you learn something new?
Did your perception of the topic change based on what you read?
What does this passage teach me about my relationship with others?
What did this passage teach you about God or yourself?
How can you apply this passage to your daily life?
Ex Reflection: God is called a Shepherd because he takes care of, guides, and directs me. He protects me from the enemy with his rod and rescues me in time of trouble. His staff is used to guide me in the right direction when I go astray. Even when I walk through the darkest valley, he is still with me leading and guiding me. So I don't have to be worried or afraid.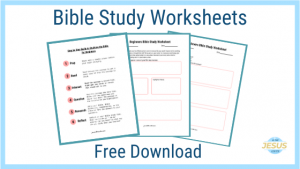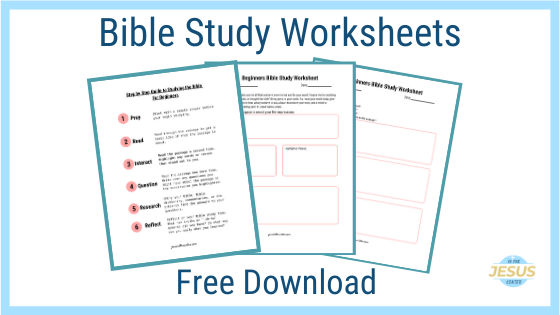 Don't Forget to Download Your Free Bible Study Worksheet!
Studying the word of God is like planting a seed in the soil. The more you study, the more seeds you plant.
As you grow in other areas of your walk with Christ, those seeds are watered and begin to grow and produce fruit.
Take your time. Find what bible study methods and techniques work best for you and let the word of God become rooted and grounded in your heart.
Did you work through Psalms 23 on your own? Share your reflections with me in the comments section.
As always, keep Jesus in the center of everything you do.
Your Sister in Christ,
Eboni