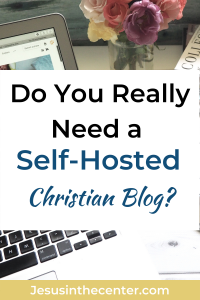 "This post may contain affiliate links, which means I may receive a commission, at no extra cost to you, if you make a purchase through a link.As an Amazon Associate I earn a small comission from qualifying purchases. Please see my full disclosure for further information."
Do you really need a self-hosted blog to be successful?
When I first started learning about blogging almost every blog post I read about starting a blog told me that I should have a self-hosted blog.
WordPress.com was the wrong way to go and I should be using wordpress.org.
I spent months agonizing over this decision before I finally decided to go with wordpress.com.
I can honestly say that it is a decision I have never regretted.
6 Reasons Why You Shouldn't Self-Host Your Blog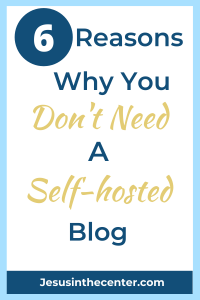 1. You are Terrible With Technology
When you use a paid plan on a hosted site, you are paying for two things convenience and features.
If the thought of having to figure out why your blog crashed or why you're getting some weird error message stress you out, then I'd start with a hosted blog.
When I began my first blog, I used wordpress.com.
It was awesome!
I didn't have to worry about maintaining my blog, updating plugins, etc.
My life consisted of writing and publishing my posts.
2. Your Blog is a Hobby
If you plan on blogging as a hobby, then having a hosted blog is the best way to go.
You can use a free blogging platform like:
Since you will be using a free plan, you will be given a subdomain name (i.e. jesusinthecenter.wordpress.com) instead of a normal domain name (jesusinthecenter.com).
One of the ways to get rid of the subdomain is to upgrade to a paid plan.
Most of them will offer you a free domain name for the first year, then you'll have to pay for your domain name the year after that.
3. You Want Access to A Built-In Audience
Getting people to read your blog is an ongoing struggle.
Especially for new bloggers.
Starting your blog on a self-hosted site can make you feel like you're alone on an invisible island.
You may get one or two page views a few times a week, but other than that it's crickets.
Why start on an island when you can start in a village?
I know wordpress.com and blogger have their own built-in blogging communities.
Being a part of the WordPress blogging community was one of my favorite parts of having my blog on wordpress.com.
Having the support of other bloggers really helped boost my confidence.
4. You're Ok With Limited Options
Do you suffer from shiny object syndrome?
Sometimes having so many choices can be overwhelming.
When you self-host your site, everything is on you.
There are tons of plugins you can try and just as many themes to check-out.
You can literally waste hours or days testing out themes and plugins on your blog.
When your blog is hosted, you are limited to whatever features you pay for.
There aren't any plugins for you to choose from or an infinite number of ways you can customize the theme of your blog.
5. You Don't Want to Monetize Your Blog
One of the main arguments for going self-hosted is the ability to monetize your blog any way you want.
When you're blog is hosted, you are limited by your plan on how you can make money from your blog.
However, with most hosted blogs you can still monetize through affiliate marketing with a paid plan.
You can also place ads on your blog, but you're limited to their ad networks.
For instance, wordpress.com will let you advertise with their WordAds program if you are on the premium plan.
Don't expect to get rich using these programs because you share the proceeds with your hosting company.
I've probably made about $5 using their WordAds program.
Statistically, most bloggers make $100 or less from their blog every month (blogging.org).
Which brings me to my next point.
6. You Can't Afford to Go Self Hosted
How much does it cost to self-host a blog?
Well, it all really depends on what kind of blog you're trying to build.
Let's review the basic expenses for self-hosting a blog.
domain name (free – $18)
hosting ( 2.00 -$20/month)
Content Management System (wordpress.org free)
At first glance, this all seems relatively inexpensive.
However, there is a catch.
Most hosting services offer a very low introductory rate for their services, but the only way to get that rate is to pay for 2-3 years of hosting upfront.
Once your terms are up the price for hosting your website increases exponentially.
For example, the introductory rate for Bluehost is $2.75/month ($ 7.99 normally), but to get that rate you have to sign-up for 3 years.
If you add all of the extra bells and whistles that total comes to $231.63 upfront.
Without the add ons, the total is $99 for 3 years of hosting.
Honestly, that is a really good deal.
But if you're on a tight budget that $99 – $232 can be spent elsewhere.
If you don't have the finances to go self-hosted, then using a free hosted plan or a low-cost plan is what I would recommend.
There are many things that you need to take into account when setting up a blog.
The decision to go with a hosted or self-hosted blog is just one of many things you will have to decide.
Despite what professional bloggers say if you're:
unsure about blogging,
want to blog as a hobby,
looking for a community to share your ideas with,
and monetizing your blog is not a priority
then going with a hosted blog is your best bet.
Before I go I want to go back to my first question.
Do you need a self-hosted blog to be successful?
What is Your Definition of Success
How do you define success?
Dictionary.com defines success as the accomplishment of an aim or purpose.
As a Christian blogger, we must have a clear picture of our blog's purpose.
Who has the Lord called you to serve?
What kind of content does he want you to write?
Does your blog bring him glory and draw others closer to him?
It's easy to get caught up in the number of subscribers we have or how much money we can make from our blog.
However, as a Christian blogger, we are not to get caught up in the world's definition of success.
That doesn't mean that we shouldn't make money from our blog or that we can't have 1000's of pageviews a day.
It just means that we shouldn't focus on those things.
Will having a self-hosted blog make you more successful?
No, there is a lot more to blogging than just your hosting.
However, If you plan to make money from your blog, then I would recommend switching to a self-hosted blog eventually. 
Your Sister In Christ,
Eboni