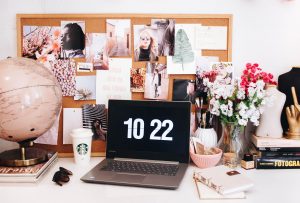 "This post may contain affiliate links, which means I may receive a commission, at no extra cost to you, if you make a purchase through a link.As an Amazon Associate I earn a small comission from qualifying purchases. Please see my full disclosure for further information."
He said to them, "Go into all the world and preach the gospel to all creation."

Mark 16:15 NIV
What better way to share the love and the message of Christ than by starting a Christian blog?
Imagine being able to share the message of the gospel without leaving the comfort of your own home.
Your blog could attract readers from all over the world.
Your blog could inspire someone to follow Christ or draw closer to him.
The possibilities are endless.
But with those possibilities come many responsibilities that you may not have considered.
5 Questions You Need to Consider Before Starting A Christian Blog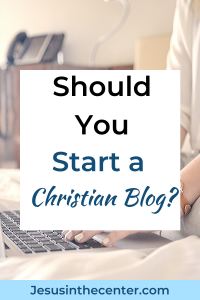 5. Why Are You Blogging?
The obvious answer is because you want to share Christ with the rest of the world.
However, is that the only reason?
Are you blogging because you need a hobby?
Are you blogging because you've been lured in by the many pins that tell you how much money you can make from blogging?
Or are you blogging because you feel God tugging at your heart to share your story with others?
When I started my first blog, The Crafty Afro, I was blogging because I needed a creative outlet.
And blogging offered me a way to be creative and to interact with other people online.
As a stay at home mom, it was just the hobby I needed to keep my sanity.
Knowing why you are blogging will make a big difference in how successful your blog will be in the long run.
It will also help you decide if you want to be a hobby blogger or a ministry blogger.
4. Do You Have the Time?
One of the reasons this blog exists is to help Christian bloggers find a balance between their faith, home life, and blogging.
As a newbie, blogging can take up a considerable amount of your time.
There is so much to learn and figure out but we'll talk about that later.
When I first started taking my blog seriously, I could easily spend 20 – 30 hours a week working on my blog.
Even before then, when it was just a hobby, I still found myself spending a considerable amount of time working on my blog.
All while trying to grow in my walk with Christ, take care of my family, and my duties at church.
I can tell you that many of my other duties suffered because blogging began to take over my life.
Take an honest look at your life and figure out if you have the time in your day to commit to working and maintaining a blog.
3. Are You Willing To Learn New Things?
Blogging is not just writing a blog post and publishing it to the web.
You also have to:
design graphics for your blog, Facebook page, etc.
market your post on social media,
respond to comments and e-mails,
and consistently write and do research for your upcoming posts.
You don't have to learn all of this at once however it is something that you will have to learn.
Even if you're just blogging as a hobby, you will still need to learn the basic marketing skills to get people to read your blog.
2. Have You Been Called to Write a Christian Blog?
Do you feel the Lord tugging at your heart to start a Christian blog?
In my opinion, there are two types of faith bloggers: Christian bloggers and Subtle Christian bloggers.
Christian bloggers are bloggers that specifically blog for a Christian audience.
Scripture is used throughout their posts, and they tend to focus on presenting a biblical perspective of an issue.
These types of blogs are important for helping other Christians grow in their walk with Christ.
They also tend to be more ministry focused (I'll explain that in another post).
Undercover Christian bloggers target a broader audience that includes Christians and non-Christians.
They may have faith sections on their blog or possibly provide a scripture as a point of reference in one of their blog post.
Lee Ann, from Kingdom Bloggers, calls this the "Sneaky Jesus" approach to blogging.
The benefit of this approach to blogging is that you have a much broader target audience and it allows you to connect with non-Christians as well as Christians.
Both types of Christian bloggers have their place in the online community.
Which one is he calling you to be?
1. Have You Prayed About It?
In anything that we do, we should always take it to the Lord in prayer.
As I mentioned before blogging can take up a lot of your time and energy.
It can just as easily become a hindrance and a stumbling block for you.
Instead of being a blessing, it can become a headache.
Instead of drawing people to Christ, you can end up drawing people to you.
So before you take that next step take it to the Lord in prayer.
Allow him to lead and guide you.
I pray that these questions have given you time to think and reflect on the decision to start a Christian blog.
If you still feel the call to blog, then welcome to the community of Christian bloggers!
Read this post on 5 Decision Bloggers Need to Make Before Starting a Blog.
You may like my post on 6 reasons why you shouldn't self-host your blog.
I look forward to seeing where God takes you and your blog.
Just remember to always keep Jesus in the center of it and he'll do great things through you!
Did something in this post speak to you or help you in your decision to start a blog? Tell me about it in the comments section.
Your Sister In Christ,
Eboni