As a mom of 4, life can be chaotic. There are days when I feel like I've got this mom thing in the bag and days when I ask the Lord if he's sure I'm qualified to be a mother.
When we doubt our calling as mothers, the best thing we can do is turn to God in prayer and read his word.
Today, I'm going to share with you 7 devotional books for moms that will uplift, inspire, and encourage you to grow closer to God and walk in your calling as a mom.
Top 7 Devotional Books For Moms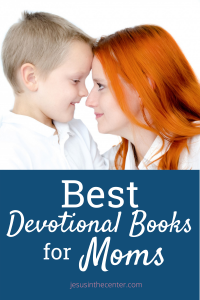 "This post may contain affiliate links, which means I may receive a commission, at no extra cost to you, if you make a purchase through a link.As an Amazon Associate I earn a small comission from qualifying purchases. Please see my full disclosure for further information."
Moments of Peace For Moms is a 365-day devotional written by Our Daily Bread Ministries. Each devotional can be completed in a few minutes, which makes it perfect for moms of babies and toddlers.
When there is a toddler at home you're constantly in motion. Even when the kids are down for a nap, a mommas job is never done. Pressing Pause is perfect for those mamas dealing with the chaos of toddler life. Each devotional has a scripture, a brief reading, and a few questions at the end for reflection. The devotionals are short and to the point, perfect when you can catch a few minutes to yourself.
#MOMLIFE is a fun and relatable devotional book for every mom no matter what stage of motherhood you're in. Each week has 5 days of devotionals and two rest days. Each devotional will help you dig deep into the word of God and reflect on your own strengths and weaknesses as a parent. You will walk away feeling motivated and encouraged.
The pandemic has led to an increase in first time home school parents. This devotional is a collection of devotions written by experienced homeschoolers. Each devotion includes a bible verse, prayer, and references for further reading. These ladies will encourage and uplift you as they share their joys and struggles with homeschooling.
Being a parent is hard, but it's even harder when you have to do it alone. The Single Mom's Devotional address the tough issues and struggles that single mothers face in a real and relatable way. The book contains 52 devotionals. Each devotional has a reading, bible verses, topics for reflection, and questions that relate to each topic. If you're a single mother or know a single mother that could use encouragement and direction this is one to read.
Becoming Mom Strong tackles the tough issues that mothers face in today's society. The book covers confusing cultural issues, biblical guidance for parents, and so much more. Each chapter contains relatable stories, prayer points, and scriptures. After reading through this devotional you will be equipped and encouraged to be mom strong!
7. Love Unending: Rediscovering Your Marriage in the Midst of Motherhood
There are a lot of things that people don't tell you about motherhood. One of them is the drastic toll it can take on your marriage. This 21-day devotional is perfect for the weary momma that feels like she has nothing left to give her husband after a long day of taking care of children.
Each day addresses a specific behavior and is accompanied by bible verses, a relatable story, and questions for reflection. If you feel like the burden of motherhood has put out the fire in your marriage, this book is for you.
Alright, now that you've learned a little about each devotional, it's time to pick one and get reading!
Have you read one of these books before? Which one are you interested in reading? Share your thoughts with me in the comments section.
As always, remember to keep Jesus in the center of everything that you do.
Your Sister In Christ,
Eboni