Only 14% of adults in the US read their Bible daily.

American Bible Society, March 2018
In a recent study performed by the American Bible Society, they reported that only 14% of adults in the US read their Bible daily (March 2018).
As a Christian, I find this number a bit shocking, considering that the Bible has everything in it that we need to live according to the standard Christ has set for us.
However, I get that reading the Bible, let alone trying to study it can feel a bit intimidating. Especially, for new Christians.
After all the bible is made of 66 books divided into two sections the Old and New Testament.
The Old Testament consists of books of history, poetry, and prophecy, while the New Testament consists of the Gospels, Letters, and 1 book of prophecy.
Where does one even start? Do you just open the bible and just start reading whatever page you land on?
Then you have to decide what version/translation of the bible you want to read: NIV, KJV, ESV, NLT, HSBC…It can all be a bit much.
If you're a new Christian I want you to stop right here and go check out my post on how to read the Bible for beginners.
If you've made it this far I assume you already understand the importance of studying your Bible and the different ways you can study your Bible.
Today I'm going to share with you a few helpful acronyms that can help you enhance your Bible study time.
5 Easy Acronyms to Help You Effectively Study the Bible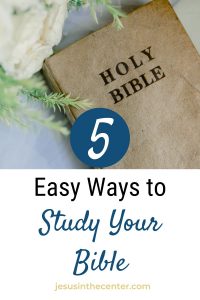 "This post may contain affiliate links, which means I may receive a commission, at no extra cost to you, if you make a purchase through a link.As an Amazon Associate I earn a small comission from qualifying purchases. Please see my full disclosure for further information."
In general studying, the Bible falls into 3 main categories: topical (word) study, chapter study, and character study.
Bible Journaling is an effective way to study the bible no matter what type of study you are doing. You don't need anything fancy for Bible journaling.
A simple spiral or composition notebook will work just fine.
Even though all of the previously mentioned methods are slightly different they all have the same basic backbone: choosing a scripture, chapter, topic, etc, writing down your observations, and some form of personal interpretation.
All 5 of these acronyms have already been covered in great detail by other bloggers.
Instead of rehashing what's already been done, I have provided a brief overview of each acronym and provided the link to the original blog post if you would like more information.
Without further ado here are 5 easy acronyms that you can use to study the Bible.
SOAP stands for S-scripture, O-observe, A-application, P- prayer.
I believe the SOAP method is currently the most popular acronym. Whenever I am on pinterest I always see pins for this study method.
WORD stands for W-write, O-observation, R-relevant, D-declare.
The WORD method does not simply end with prayer, but as part of the prayer you declare the applicable parts of the scripture over your life, which I thought was pretty neat.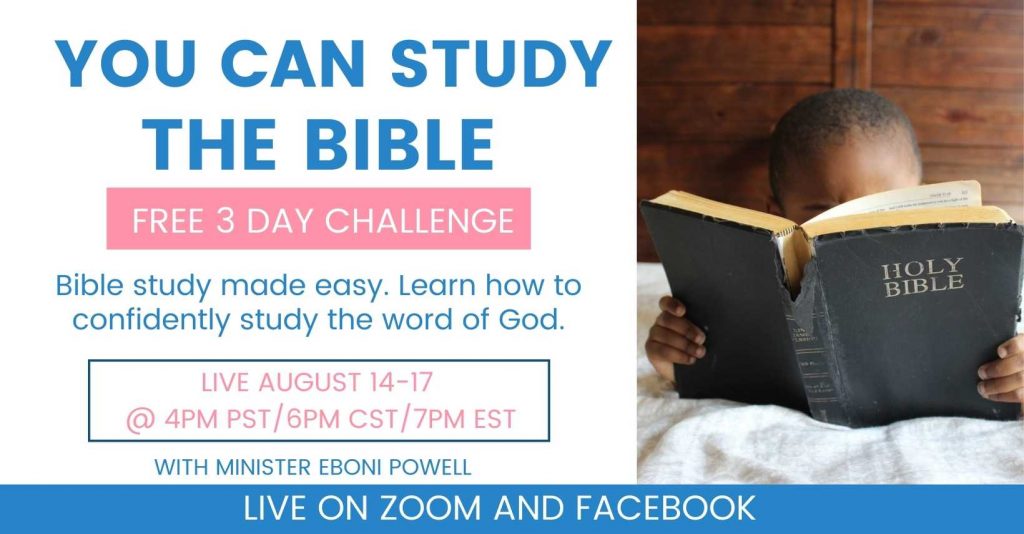 APPLE stands for A-attributes of God, P-promises of God, P-principles for life, L- lesson learned, E- example to follow.
The APPLE method is excellent for studying the Psalms. Unlike, the other methods this one has you look for the attributes of God and his promises.
This kind of study can be useful for learning scriptures on healing, finances, God's provision, or doing a study on the Character of God.
REST stands for R-read, E-engage, S-savor, T-Take charge.
The REST method is best for topical bible studies. For example if you wanted to learn about forgiveness, tithing, baptism, love, etc.
This one doesn't have an observation section, but instead directs you to meditate(S-savor) on the scripture or passage that you've read. Once you've meditated you write down what you believe God is speaking to you through the scripture (T-Take Charge).
SALT(Y) stands for S-supplication, A-absorb, L-learn, T- Thanksgiving, Y-you.
This study method begins with prayer (S) and ends with giving God thanks(T). I like that you can add the Y, which causes you to examine how the verse applies to your life.
If you're crunched for time this bible study would work well, but I wouldn't recommend it for a more in depth bible study.
Final Thoughts
Taking time out of your busy day to read your Bible is an important part of any Christian life.
Spending time in the word of God is essential to our growth as Christians and can radically change our lives if we let it.
While studying the Bible can seem intimidating it doesn't have to be.
Using any one of the 5 acronyms above can greatly enhance our time spent studying the Bible.
Have you tried any of the acronyms above to study the bible? Maybe I've missed one or you know of another method.
Please feel free to share it in the comments section.
Even though I didn't cover it here artistic bible journaling is another fun way to study the Bible.
I even created my own artistic bible journaling method called PEARLS Bible journaling.
No matter what acronym you choose I'm sure they will bless you and help you draw closer to God.
As always, keep Jesus in the center of everything you do.
Your Sister in Christ,
Eboni