"This post may contain affiliate links, which means I may receive a commission, at no extra cost to you, if you make a purchase through a link.As an Amazon Associate I earn a small comission from qualifying purchases. Please see my full disclosure for further information."
Have you heard of Bible journaling?
I'm not really one that follows fads and trends, but when I was trying to figure out new ways to study the Bible, I stumbled across this little bible study method.
And can I say that to date it is one of my favorite ways to study the scriptures!
What more could I ask for?
A way to document your bible study time, thoughts, and reflections plus drawing!
Let's talk about bible journaling: what it is, who it's for, supplies you need, and how to use the P.E.A.R.L.S bible journaling method to help you study the bible.
If you already know about Bible journaling, you can scroll down to the P.E.A.R.L.S bible study method.
What is Bible Journaling?
Bible journaling is simply a creative way to study your bible that combines journaling and drawing.
If you read my post on the importance of studying the bible, then you know that digging into the word of God daily is one of the key spiritual disciplines.
As a part of the process, you write down scriptures and the thoughts that occur to you as read your bible in the margins.
Write in your bible?! Yes, as a part of this method you can write in your Bible.
They even have journaling Bibles that have wide side margins for you to write or draw in those spaces.
Personally, I don't like writing in my bible unless it's short notes or underlining specific passages.
I prefer to use a binder and good old-fashioned paper. But you can use a composition or spiral notebook.
The choice is up to you.
Who's Bible Journaling For?
In short, Bible journaling is for everyone.
You don't need to be an artist. Drawing is just one part of the process.
There have been plenty of instances where I didn't draw anything, made bubble letters, or drew stick people.
Don't let the pretty bible journaling pictures you see on Pinterest intimidate you.
Remember this is about you drawing closer to God through his word. He doesn't care if you draw stick people.
What Supplies Do You Need to Get Started?
You don't need anything fancy to start Bible journaling. The following supplies are all you need:
Extra Supplies
If you want to dive straight into Bible journaling, you can purchase a bible journaling kit.
P.E.A.R.L.S Bible Journaling Method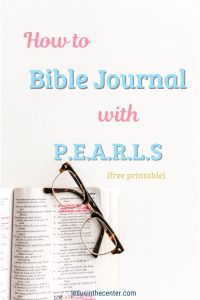 What is the P.E.A.R.L.S. Bible Journaling Method?
When I first started Bible journaling, I found myself spending more time reading the bible and drawing out the scriptures.
However, I still felt like I was just reading the bible and not really getting much out of it.
That's when I created the P.E.A.R.L.S bible journaling method.
This method has helped me:
go from a passive reader of the word to an active and engaged one,
provided a deeper understanding of the word,
helped me apply the word to my life,
and help me draw closer to God.
If you don't have a notebook or binder, I would highly recommend that you get one because you will be doing your fair share of writing.
You can also download the free P.E.A.R.L.S Bible Journaling Worksheet.
Now, that we've covered the basics let's talk about P.E.A.R.L.S!
As with any bible study method, I always recommend that you start with a word of prayer.
P- Passage
Select a passage of scripture to read and write in your notebook.
If you are studying a specific chapter pick one or two verses from the chapter that stood out to you and write them down.
If this is your first-time Bible journaling, I recommend you start with a passage(s) of scripture that you're already familiar with.
E- Engage
Engaging with the passage of scripture helps us to go beyond just passively reading the word to becoming active and engaged participants with the word of God.
When we start to interact with the scripture, we gain a deeper understanding of what is being said, the context of the scripture, and how it applies to our lives.
Here are some common ways to engage with the scripture:
Highlight and underline specific words or phrases that stand out to you.
Define any words that may be important to the overall meaning of the scripture.
Identify the Who, What, When, and Where of the passage.
Read a few scriptures above and below to provide context (if you use a single verse this is important, scriptures can easily be taken out of context if we don't read the surrounding verses.)
I usually write this information down in my journal to help me remember what I've read and to help me with the next few sections.
A- Art
I know the term "art" sounds a little intimidating (I wanted to use the term doodle, but that didn't really fit into the acronym.), but it's not as intimidating as it sounds.
This is probably one of my favorite parts of this method.
Depending on if you are reading an entire passage of scripture or just a single verse can determine what you'll base your drawing on.
This is also where those words or observations you noticed in the previous section can come in handy as you decide what to sketch.
There are 5 key things to remember in this section:
Don't try to be a perfectionist
Pick one verse or concept that stood out to you to illustrate.
Start with a pencil, then fill in with a marker, pen, etc.
Focus on the creator not what you are creating (what is God directing you to draw).
It's ok to just draw words and stick people.
The key point that I want to emphasize here is that your picture DOES NOT…
I repeat it DOES NOT have to be perfect and to not spend too much time in this section.
This part of the study is about drawing meaning from the scripture through your art and drawing closer to God in the process.
As a bonus, you can use your drawings to help you memorize scripture.
R- Reflect
Reflection is not something that we do often, but it is a necessary part of our walk with Christ.
Keep this Book of the Law always on your lips; meditate on it day and night, so that you may be careful to do everything written in it. Then you will be prosperous and successful.

Joshua 1:8
Reflection involves consciously and purposely thinking about and looking at our experiences, action, feelings, etc, and learning from them.
My mouth will speak words of wisdom; the meditation of my heart will give you understanding.

Psalms 49:3
As evidenced by scripture, God wants us to meditate on his word so that we can learn and apply it to our daily lives.
Here are a few questions that can help you with your reflection:
Did you learn something new?
Why did you decide to illustrate that specific scripture?
How could you apply this scripture to your daily life?
Is there a specific area of your life that the passage spoke to you about?
Did you learn something about the character or an attribute of God?
L- Listen
Most Bible studies can be done in 1,5, or 10 minutes but how do those studies deepen our relationship with Christ?
When do we give God a chance to speak to us if we're rushing through his word?
Now is a great time to stop and listen.
Is he showing you how to apply this scripture?
Is he showing you an area of your life that you need to work on?
Is he leading you to repent of something?
Write down what you hear him speaking to you.
S- Speak
The final step is to speak to God.
In this section you can write a prayer addressing the following:
Thanking God for his word
Pray the verse over your life or for your family and friends.
Respond to what was said in the listening section.
Or pray about whatever the Holy Spirit is leading you to pray about.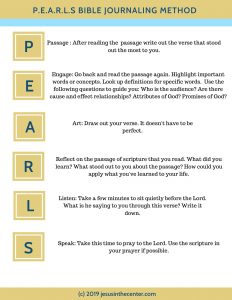 P.E.A.R.L.S In Action ( Example from my P.E.A.R.L.S Journal)
FYI: These are real notes and reflections copied from my personal journal. Please ignore any grammar mistakes you may see.
P
Train up a child in the way that he should go, and when he is old he will not depart from it. Proverbs 22:6, KJV.
E
Train up a child in the way that he should go and when he is old, he will not depart from it. (rewritten to show underlined sections)
Amplified version adds…teaching him to seek God's wisdom and will for his abilities and talents.
Train…means to teach or instruct someone…it is during training that athletes practice and prepare for their races
The way…there is a specific direction or practice that should be followed
A
R
I usually just think that this verse meant that we should make sure our children attend church, know how to, and read their bible.
Which is all fine and dandy, but the AMP version of this verse says that we are to show them how to seek God's will for their abilities and talents.
Am I teaching my kids how to seek God's will for their abilities and talents? Do I even know what their gifts and talents are?
Do we teach our kids spiritual warfare? Are we actively training our kids how to follow Christ?
I can say that I am seriously slacking on this front.
If we are training our kids, then they will have opportunities to be instructed and apply their faith.
Things like tithing, witnessing to others can be directly applied and practiced.
L
It is your job as their mother to teach your children my ways and lead them down the right path. Don't worry if they don't follow it. It is my job to keep them and your job to train them.
S
Thank you, Heavenly Father, for the revelation of your word. Help me to better equip and train my children in the things of the Lord.
Help me to identify and nurture their God-given talents and abilities so that they can bring you glory and honor.
Teach me how to lead them down the path of righteousness for your namesake.
Show me how to equip them to do battle with the enemy so that when he comes against them, they will be able to stand firm in their faith. Amen.
This whole process usually takes me between 15-45 minutes depending on how much time I spend writing in the last 3 sections.
Final Thoughts
Bible journaling can be a great tool to help you grow in the word of God and your relationship with him.
Try the P.E.A.R.L.S Bible Journaling Worksheet.
Or maybe you would like to try a different bible study method or a different Bible study acronym.
Now it's your turn.
What's your favorite way to study the bible? Have you tried bible journaling? Share your thoughts in the comments section.
As always, keep Jesus in the center of everything you do.
Your Sister in Christ,
Eboni