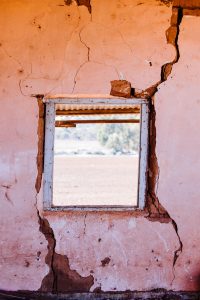 "This post may contain affiliate links, which means I may receive a commission, at no extra cost to you, if you make a purchase through a link.As an Amazon Associate I earn a small comission from qualifying purchases. Please see my full disclosure for further information."
How Is Your Foundation?
Have you ever met someone whose life was total chaos, but they seemed to have peace despite their situation?
You know the type.
The woman who's been diagnosed with cancer, but she's still smiling and able to give words of encouragement.
The man that's lost his job, but he's still trusting in God that he will be taken care of in spite of it all.
The family that's lost everything in a house fire, but they still give God praise.
These are the types of Christians that are often portrayed in movies.
We subconsciously think to ourselves these kinds of people can't be real.
Well, can I tell you something?
Those kinds of Christians actually exist.
People that keep smiling during the midst of the storm and chaos that's going on in their life.
I personally know a few of them.
Wouldn't it be great to be able to go through the storms of life with such confidence and trust in the Lord?
That despite what we see everything is going to be all right in the end.
I'm here to tell you how you can have that kind of faith in Christ and the peace that comes with it.
These types of Christians don't have the market on faith cornered.
Instead, they have something that we all desperately need, a firm foundation built on Christ and strengthened by the spiritual disciplines of :
Today we're going take a look at the most important part of our spiritual foundation, Christ.
What is Your Foundation Built On?
In Matthew, Jesus tells a parable about two houses built on two different foundations.
One was built on a rock and the other was built on the sand.
When the storm came the house built on the sand fell and was utterly destroyed and the house built on the rock was still standing.
"Therefore everyone who hears these words of mine and puts them into practice is like a wise man who built his house on the rock. The rain came down, the streams rose, and the winds blew and beat against that house; yet it did not fall, because it had its foundation on the rock.

Matt 7:24-25
But everyone who hears these words of mine and does not put them into practice is like a foolish man who built his house on sand. The rain came down, the streams rose, and the winds blew and beat against that house, and it fell with a great crash.

Matt 7:26-27
In this parable, Jesus didn't say anything about the construction of the house. Why?
If you've ever built a sandcastle you know how easily and quickly the water can wash away the sand.
Any house that is not built on the proper foundation will not stand. No matter how well it's made.
What is your foundation made of? The sand of the world or the rock of Christ?
The Two Cornerstones
The Original Stone
In ancient architecture, the cornerstone was the first stone placed, usually in a corner, and served as structural support and the first foundation stone.
Jesus is the original cornerstone.
The Modern Cornerstone
Thanks to modern technology cornerstones are not used anymore in construction. If they are used they are used solely for ceremonial purposes.
They do not provide any support for the building at all.
Often the stone is decorated and hollow.
This modern stone represents religion.
The Difference Between the Two Stones
As Christians, our faith should be rooted and grounded in the original cornerstone, Christ.
Therefore thus says the Lord GOD, "Behold, I am laying in Zion a stone, a tested stone, A costly cornerstone for the foundation, firmly placed. He who believes in it will not be disturbed " (Isa 28:16)

Isa 28:16
When we make Jesus our cornerstone he becomes our structural support and the foundation of our relationship with God.
Those Christians that I mentioned earlier have their firm foundation built on Christ.
That's why when the storms of life come their way they are able to stand when the rest of us would crumble and fall.
The Bible says,
"And the peace of God, which transcends all understanding, will guard your hearts and your minds in Christ Jesus."

Philip 4:7, NIV
When our foundation is built on Christ we have access to the peace of God. We can cast all of our cares upon him knowing that he will see us through.
Many people mistakenly believe that going to Church, paying their tithes, giving to the poor, etc makes them Christians.
Their foundations are built on a decorative cornerstone that is hollow and provides no support.
The foundation of religion allows us to go through the motions of being a "good" Christian by following tradition and Christian customs, but there is no relationship with Christ or God the Father.
Our cornerstone is empty. So when life hits us our foundation breaks and crumbles.
We quickly find out that the foundation that we thought was built on the rock was actually built on fancy sand.
Being a Christian is not about the things you do, but about the relationship that you have with Jesus Christ our Savior.
What is Your Spiritual Foundation?
Is your foundation built on the rock of Christ? Or the sand of religion?
When your world gets turned upside down who do you run to? Christ or yourself?
Belief and trust in Christ is the first step in growing in your walk with God.
It is the first and most important layer of your foundation.
The road to salvation is simple.
If you confess with your mouth,"Jesus is Lord," and believe in your heart that God raised Him from the dead, you will be saved.

Rom 10:9, HCSB
However, you will need to do much more than just confess and believe.
Just like sand can be blown away. Stone can be worn away over time by wind and rain.
To keep that from happening you need to strengthen your foundation by engaging in the spiritual disciplines.
These spiritual disciplines will deepen your relationship with God and strengthen your foundation.
What spiritual discipline would you like to know more about? Or maybe there was something in this post that really resonated with you or that you disagreed with. Please share it with me in the comment section.
As always, keep Jesus in the center of everything you do.
Your Sister In Christ,
Eboni