When I first started blogging, I had no clue how to write a blog post. Let alone how to get my post to rank on Google.
I'll be honest with you. My first few blog posts were terrible. I didn't know how to properly format my post or that there was even a "proper way" way to go about it.
Today we'll talk about how to format your blog post and a few tips to help your posts get found on the internet.
How to Write a Blog Post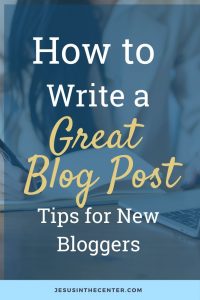 "This post may contain affiliate links, which means I may receive a commission, at no extra cost to you, if you make a purchase through a link.As an Amazon Associate I earn a small comission from qualifying purchases. Please see my full disclosure for further information."
If you read my previous tips on blogging, then you know that your blog posts should not be about you. Unless your blog is a personal diary.
There really isn't any secret formula to writing a blog post. It's a lot like writing a persuasive essay in English class.
To be on the safe side, I'll go over the basics.
The Anatomy of a Blog Post
1.Title
The title of your blog post should spark your audiences curiosity.
Titles that have a positive or negative sentiment are more likely to get clicked.
Would you rather read:
How to Write a Blog Post
How to Write a Blog Post Your Audience Will Adore
Writing titles can be tricky. Don't get discouraged. You can you a headline analyzer like Sharethrough to find out how engaging your headline is.
2. Featured Image
Use a nice image to draw your reader's eye down the page.
Should be related to the content.
No text required on the image.
FYI: This is not the only image you should have in your post, but we'll cover that in the tips section.
3. Body of the Post
Introduction
The introduction consists of 2 parts: the hook and the statement.
The hook grabs your reader's attention.
A brief personal story.
Quote
Question
Scripture
Scenario
Problem
You can use any of these to grab your readers attention.
Statement
You've got your reader's attention. Now you tell them what your post is about. What are they going to learn from your post? What solution are you offering to their problem?
Supporting Paragraphs
This is where proper blog format comes into play. Your support paragraphs or sections should be set as h2 headings.
For instance, if your writing a post on how to pray your h2 headings might be:
What is Prayer?
Why Do You Need to Pray?
What Does the Bible Say About Prayer?
Different types of prayer.
You would write your supporting details under each h2 heading.
If you have subheadings underneath your main headings, they would be h3, h4, etc.
The h1 heading is only for your blogs title.
Conclusion
Your conclusion should include:
a summary of your key points
final thoughts
a call to action (CTA)
Obviously, what goes into your blog depends on what type of post you are writing. If you are writing a brief devotional, open letter, or prayer you might not need these sections.
7 Tips for Writing Blog Posts Your Readers and Search Engines Will Love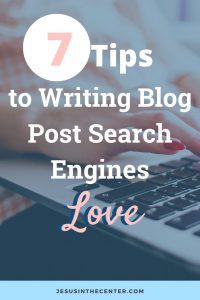 1. Put Your Audience First
Always write with your audience in mind and not Google. When you're brainstorming topics to write about, ask yourself the following questions:
Is this something my audience struggles with?
What lesson or skill will they learn from this post?
What questions might they have on this topic?
What information do they need to know beforehand?
If you're unsure what questions your audience might have about a topic, use Google or Answer the Public.
Google shows you common questions people are asking on a specific topic in the "People Also Asked" section.
If you type a word into Answer the Public, you'll get a cool diagram with all sorts of questions people are asking.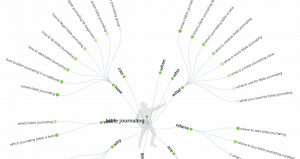 2. Research
Before you write your post, make sure you've done your research. If you want your post to show up in search engines, you need to know:
What's already been written on the topic.
Relevant background information or opposing views.
Popular keywords.
As the bible says in Ecclesiastic 1:9,"…there is nothing new under the sun." Don't get discouraged if there are articles already written on your topic.
It means a lot of people are interested in it.
Instead, focus on how you can make what's already been written better or put your own unique spin to it.
For example, I wanted to write a post about productivity tips. Instead of coming up with the same list as everyone else, I based them on the Proverbs 31 woman. 
Look for any gaps in the information that haven't been filled or answered adequately.
If you struggle with finding keywords for your blog, you can use Google search to find popular keywords from the drop-down menu.
Look at all the other words that showed up when I typed 'prayer' in the search bar.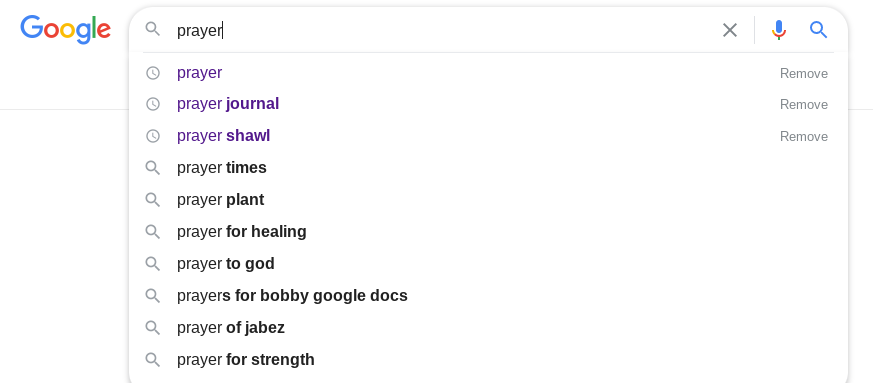 3. Find The Right Keywords.
If you are a new blogger, your blog will have a hard time ranking for popular keywords.
Instead, focus on keywords with a high search volume, but low SEO difficulty.
For example, according to Ubersuggest, the keyword 'prayer' has a search volume of 201,000 and an SEO difficulty (SD) of 62.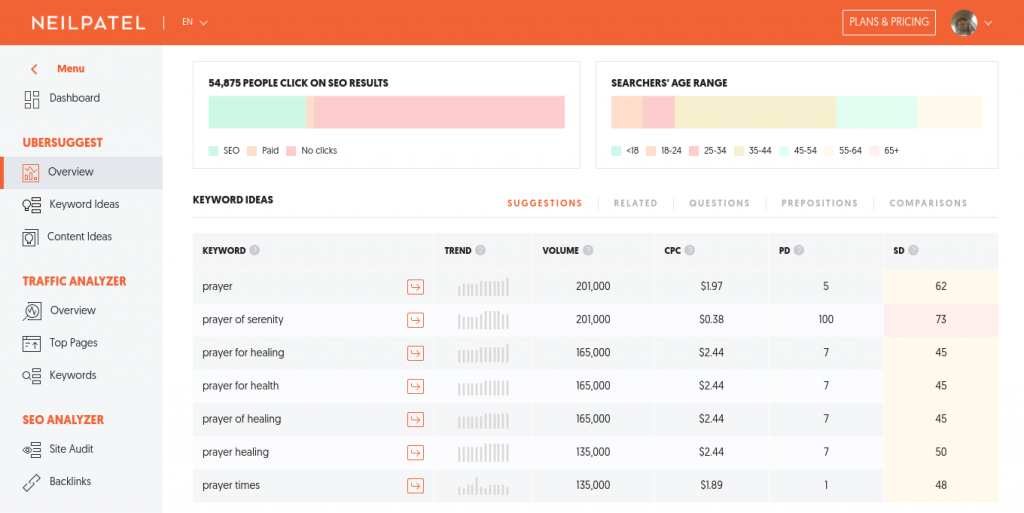 You should aim for keywords with an SD of 35 or below.
These are usually long-tail keywords or keyword phrases. Instead of one word, it consists of three to four words.
If I look up the phrase "how to pray", the search volume is 14,800 and the SEO difficulty is 30.

As your blog grows, you'll automatically start ranking for keywords with a higher SEO difficulty.
Here are a few keyword research search tools I've used:
4. Put Your Keywords in the Right Place.
Before you take these tips and run with them, always write for your audience first, then Google.
Make sure you are using your keywords naturally.
There are several places you should include your keywords in your blog post.
Post title or title slug. (Did you know your permalink doesn't have to be the same as your post title?!)
In the beginning, middle, and end of your post.
Meta description, which is a brief description of your post.
H2 heading of your post. (if it's a natural fit) *FYI those questions in the "people ask" section of Google makes great H2 headings.
Image Title and Alt text (Instead of 122423.jpg rename your image as how-to-pray.jpg.)
Popular SEO plugins like Yoast or RankMath, are great at making sure you include your keywords in the right spots.
Remember these plugins are just tools to help you improve your SEO strategy. You still need to do your research, pick the right keywords, write great content, and work on your back-end SEO.
5. Make Your Post Visually Appealing.
People have short attention spans. You need to keep them engaged by switching up the flow every now and again.
Try:
Keeping your paragraphs short, 1-2 sentences.
Using bullet points.
Including pictures or GIFs.
Highlighting words, or phrases in a different color or weight.
Including a CTA (subscriber form, freebie, or tweet) in the middle of your post.
Anything that will break up the text and keep your audience engaged.
6. Create A Call To Action (CTA)
Let your reader know exactly what you want them to do with a clear call to action.

Tweet
Your reader has made it to the end of your post. They're encouraged and ready to do something with the information you've given them.
Don't leave them hanging. Tell them what you want them to do next.
Leave a comment.
Share your post on social media.
Join your e-mail list.
Download your freebie.
Follow you on social media.
Read a related post.
Let your reader know exactly what you want them to do.
You shouldn't have more than two CTA's in a post. If you give your readers too many options, they won't do any of them.
7. Link Your Content.
Most people do not land on your site from the homepage. Make it easier for them to find other great content on your site by linking to other posts on your page.
This is called interlinking. The best way to interlink content is by using an anchor text.
Instead of saying," if you want to read my post click on this link."
Try finding a more natural way to link to your other post.
Ex: On this site I'll share all of my favorite blogging tips. (anchor text)
Using an anchor text connects your post to a keyword.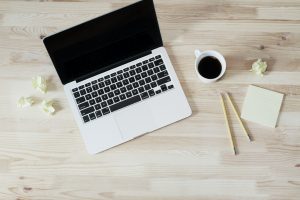 I bet you didn't realize how much work went into a single blog post. It's enough to make your head spin.
If you focus on writing blog posts that meet the needs of your audience, they will become your greatest fans.
These tips are a great start to growing your audience and getting discovered by search engines.
If you are a Christian blogger and you want to learn more about how to write a blog post, check out LeAnn over at Kingdom Bloggers. 
As always, keep Jesus in the center of your blog.
Your sister in Christ,
Eboni
Want more blogging tips and encouragement sent to your inbox? Subscribe to my blog