When you hear the words praise and worship, what do you see? Is the first image that comes to mind your church's praise and worship team?
Perhaps you see a crowd of people with their hands lifted in the air with their eyes closed.
Do you consider folding laundry and cooking your meal for your family as worship? These simple acts can be considered worship.
Today, I'll cover a few common misconceptions and the importance of praise and worship for believers.
What is the difference between praise and worship?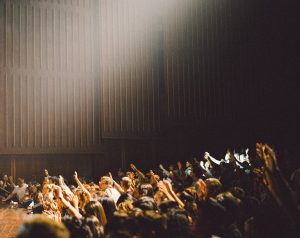 "This post may contain affiliate links, which means I may receive a commission, at no extra cost to you, if you make a purchase through a link.As an Amazon Associate I earn a small comission from qualifying purchases. Please see my full disclosure for further information."
Even though the terms praise and worship are often used together, there is a big difference between the two.
What is Praise?
There are 7 different Hebrew words for praise in the Old Testament. That's not counting the different variations of the word found throughout the Bible.
According to Dictionary.com the word praise is defined as:
The act of expressing approval or admiration.
The offering of grateful homage in words or song, as an act of worship: a hymn of praise to God.
Based on these definitions we learn that praise is:
an action that expresses our admiration and approval,
an outward expression in word or song,
and an offering to God.
Praise is something that we freely and readily give to God for all that he has done for us.
What is Worship?
Before I became a worship leader, I used to believe worship was part of the service where the congregation sings slow songs. Yet, this is only one aspect of worship.
According to Dictionary.com, worship is defined as:
the feeling or expression of reverence and adoration for a deity,
to show reverence or adoration to (God); honor with religious rights.
To revere, someone or something means to show deep respect for them, while adoration is a deep love or respect.
When the Bible says," Praise the Lord! How blessed is the man who fears the Lord, who greatly delights in His commandments." (Ps 112:1)
To "fear the Lord" means, to have deep respect and love for Him. When we fear the Lord, it is expressed as worship in a believer's life.
Unlike praise, worship is a condition of the heart. It is our attitude towards God that is expressed as praise and flows into our relationships with others.
Now, that we have a better understanding of praise and worship, let's examine why it's important.
The Importance of Praise and Worship?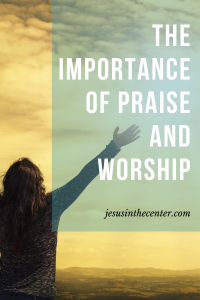 Have you ever gone to a restaurant and had excellent service? I bet you went home and told all of your friends about it.
This kind of praise is something that we as human beings naturally do and crave from others because God created us this way.
Even every one that is called by my name: for I have created him for my glory, I have formed him; yea, I have made him. (Isa 43:7, KJV)
How does God get the glory? When we praise and worship him.
It is through our praise and worship that other people hear about God's goodness and his grace and mercy.
Why Should We Praise and Worship God?
God does not force us to worship him because he loves us. He has given us free will to choose to worship Him.
If God doesn't force us to praise and worship Him, then why should we?
1. God deserves your praise.
"Worthy are You, our Lord and our God, to receive glory and honor and power; for You created all things, and because of Your will they existed, and were created." (Rev 4:1)
God deserves your praise because he is the creator of everything. He created us in His likeness and in His image so that we could glorify Him in the earth.
2. You should thank him for all he has done.
Praise Him for His mighty acts; Praise Him according to His excellent greatness! (Ps 150:2)
God has done so much for us. Even when we didn't want to accept his love, he still watched over and cared for us. He sent his son Jesus to die on the cross for us. That alone is enough to worship him.
3. Puts your focus back on God.
With everything that is going on in the world right now, it's easy to take your eyes off of Christ.
When you focus on the world, you magnify your issues and minimize God.
When we give God praise, it shifts our focus from the world and our problems back to him.
4. Invites God into your situation.
When you praise and worship God you are surrendering yourself to him. As you humble yourself in praise and worship God can intervene in your life.
5. A closer relationship with God.
Like the other spiritual disciplines, genuine praise and worship will strengthen your relationship with God.
7. Praise and worship sets you free.
Your praise and worship has the power to set you free from sin and the traps of the enemy. When Peter and Silas were in jail, they were praising and worshiping God.
As they were praising and worshipping God. there was an earthquake that caused the prison doors to open and the prison chains to fall off. (Acts 16:16-36)
There praise and worship set them free, but it had the ability to set the other prisoners free.
How Do You Praise and Worship God?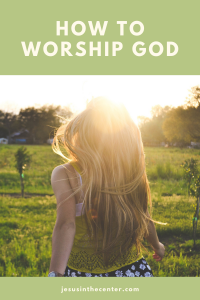 If you're an introvert or a self-conscious person, praising God in public can be intimidating.
Remember, worship is a condition of the heart and is reflected in the way you live your life and treat people.
God created us all to be unique individuals. You don't have to praise God the same way everyone else does.
7 Ways to Praise God
The Bible gives us many examples of ways to praise God. Many of them can be found in the book of Psalms.
Here are 7 biblical ways to praise God:
Singing (Sing unto the Lord a new song…Ps 96:1)
Shouting (Shout joyfully to the Lord all the earth..Ps 98:4)
Dancing (Let them praise his name with dancing…Ps 149:3)
Playing music (…make music to him with timbrel and harp Ps. 149:3)
Clapping (O clap your hands, all peoples;…Ps47:1)
Lifting your hands (Lift up your hands to the holy place and bless the Lord! Ps 134:2)
Testimony/Sharing with others (Come and hear, all you who fear God, and I will tell what he has done for my soul. Ps 66:16)
2 Ways to Worship God
Worship differs from praise, but praise can be a part of worship. The latter part is what we traditionally think of as worship.
However, there are two major ways you can worship God.
Corporate Worship
Corporate worship occurs when we come together with other believers to worship God. Your weekly services or small groups would be an example of corporate worship.
Corporate worship was very common in the early church. The disciples would often gather to pray, sing praises to God, and share a meal together.
The purpose of corporate worship is to fellowship with like-minded believers, to learn about God, and to encourage each other.
2. Private Worship
Most people have learned to function as Christians during corporate worship. We know how we are to behave and act in the church and around our leaders.
The real test comes during your private worship.
How you treat your spouse, neighbors, children, and strangers reflect your heart.
In Corinthians 10:31 it says, "Whatever you do, do it all for the glory of God."
Remember, I said that folding clothes and cooking meals can be seen as acts of worship.
Even though it may seem like a menial and tedious task to you, if we do it for God's glory, it becomes an act of worship to him.
When you worship God you will serve and care for others as God cares for you.
You develop a genuine spirit of worship by spending time with God daily in prayer, reading and studying the Bible, praise, and worship.
When you fellowship with God and submit your life to Him, your life will be characterized by obedience and reverence of God in all that you do.
Jesus died on the cross for you and me, so we could have forgiveness of our sins. That gift alone is enough to praise and worship God for all eternity.
As a Christian, you will face hard times and you will struggle, but God's grace and mercy will follow you.
God does not force us to worship him, but out of the gladness of our hearts, we share his goodness with others. Because we reverence him we worship him not just in song, but in the way we live our lives. As holy and acceptable to him.
Praise and worship must be an integral part of every believer's life. It's not just a song, it's a lifestyle.
Did you learn something new about praise and worship today? Let me know in the comment section. I would love to hear from you.
As always, keep Jesus in the center of everything you do.
Your Sister in Christ,
Eboni